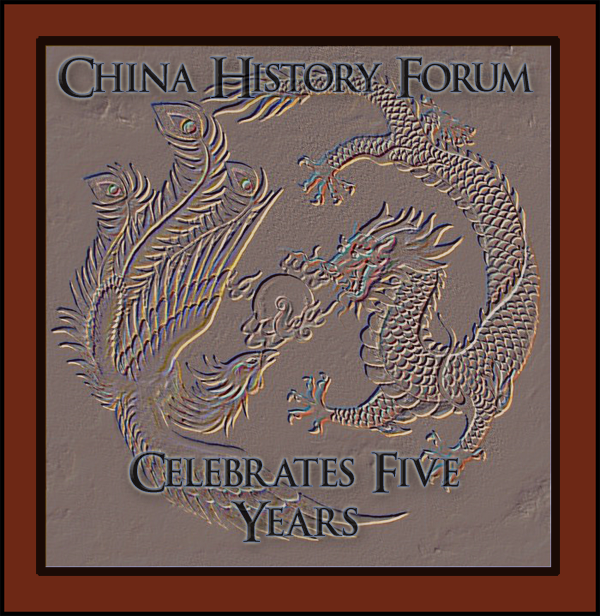 Message from CHF Founder
China History Forum was founded by me in June 2004 after realizing that there was no English forum dedicated to the discussion of Chinese History. Previously, I had founded and run Simaqian Studio (
http://www.simaqianstudio.com
), another forum focusing on world history. I felt that there needed to be a specialized forum for Chinese History. So, in late May 2004, I began to create such a forum.
We started off with only twenty members and five forums. In June 2004, we were officially opened and new members began to pour in. Membership began to grow rapidly as a result of the spread of 'words of mouth' across the Internet. In September 2004, CHF moved to its official site
http://www.chinahistoryforum.com
. During the first year, I used much of my own money to fund the advertising of CHF on Yahoo. I also monitored the traffic and improved the search engine optimization. CHF's focus on developing the quality content of the site soon proved to be the right move as it allows Google to rank many of CHF's pages at the top. Ultimately, the Google's ranking depends on the relevance and quality of the content. Due to search engine factors, CHF was able to continue to attract many academic-oriented members to come to CHF.
From 2004 to 2006, CHF had progressively expanded to more than seventy forums and membership reached almost four thousand. CHF's topic coverage included not only Chinese History, but also many other Chinese Cultural topics.
While CHF was expanding, problems also began to crop up.
CHF being larger also attracted some unwanted troublemakers, including trolls, spammers, members who discuss history with political agenda, ultra-nationalists etc. By October 2006, the large presence of these troublemakers not only made the moderation of CHF more difficult, it also disrupted peace and degraded the quality of discussion in CHF.
To remedy these problems, the staff team finally came up with the plan of a compulsory "Imperial Exam". Any members who reached thirty posts had to sit for this exam. This exam proved to be useful in filtering troublemakers. Secondly, it helped to upgrade the knowledge of members on Chinese history and raise the knowledge level of members in CHF. Later, the Imperial exam system was expanded to include an "Exemption" designed for those who feared taking the exam, but were still interested in Chinese History and Culture or Asian History.
It was also at this time that CHF had decided to position itself as a true academic-oriented forum. That means to say, it decided to target only those who are interested in Chinese History and Culture. Soon, the Chinese Current Affairs forum was closed down in order to minimize any form of political discussion that might disrupt peace in CHF.
From 2007-2008, CHF enjoyed relatively growth and peace. The most important event during January 2008 was the re-establishment of CHF Editorial Board as an independent staff team dedicated for the creation of the Newsletter and Han Lin Journal. Kaiselin had been chosen as the Chief Editor. Together with a team of writers being recruited, the Newsletter and Han Lin Journal were not only exceptionally professional, it also provided rich source of information relating to CHF, as well as academic Chinese history and culture information.
In March 2009, CHF faced a major crisis. The site was effectively hacked, stolen by a malicious hacker. Not only were administrators' accounts compromised, the web URL
http://www.chinahistoryforum.com
was also stolen. The hack was a great blow to CHF, as it caused CHF to be down for almost three weeks. Luckily, with the help of many kind members, CHF managed to get back its domain name.
One crucial observation about the history of CHF is that it will always face a situation of ups and downs. That is the Dao of CHF. However, when CHF declines, you will be sure that both the staff and other members will be doing something to make it rise again.
Our primary goal of CHF for the next half year is to regain our strength, traffic and manpower. While making sure the quality of content is maintained or even improved up, our zeal was to strengthen friendship and communication across all CHF members. "Getting to know each other" and "Getting to talk to each other in forums" will definitely be part of our strategy to build friendships across CHF. While continuing to attract new members, we also plan to attract our old members back. This will take time.
There remains further opportunity in the development of CHF. The Jinshi exam has not yet been developed and will be developed in the future to help complete our exam system. Certain projects in CHF are not yet completed and waiting for further development. There is also the possibility for creating additional features such as new skin. We are also planning to revive our award system, which had been stagnant for quite some time.
Finally, it is the enthusiasm and enlightenment of all of our members which will continue to drive the growth and improvement of the CHF. I encourage every member to get involved in ways that best suit them, and to learn from each other in a spirit of co-operation and mutual respect. I never cease to be amazed at the talents our members bring to this site. Your input is so fantastic.
I am so pleased that you have chosen to be a member of the China History Forum, and value your participation.
The future of China History Forum looks bright and is full of potential for further development.
General_Zhaoyun
Letter from the Editor
The June 2009 Newsletter is a special edition celebrating five years since China History Forum's inception. There have been ups and downs throughout these five years. As General_Zhaoyun eloquently stated, the enthusiasm of CHF members keeps the forum moving forward. On behalf of the Editorial Board, I would like to thank the countless members who have read and contributed to our two publications: the bi-monthly newsletter and the bi-annual Han Lin Journal. I would also like to give special thanks to past and present staff members of the Editorial Board who have produced and continue to produce CHF publications for nearly five years.
With this in mind, I also would like to encourage CHF members to be more active and contribute to CHF publications. Without the ongoing support of dedicated staff members of the Editorial Board and CHF members (such as yourself) there would be no CHF publications. This month has been a very busy one. Many members of the Editorial Board were unable to contribute to the June Newsletter since they had other duties. Our editorial team has decreased since the hacking crisis. This is naturally a cause for concern. The Editorial Board desperately needs more CHF members to volunteer their services for CHF publications. Without volunteers there is a real concern that the future of CHF publications will be in jeopardy. We have a new and talented contribution by Shenjie on Mencius. Contributions, such as this, reinvigorates CHF publications with new ideas and greater variety. So I would like to take this opportunity to invite you to contribute to the CHF Editorial Board in whatever capacity you feel. You can submit articles for the CHF Newsletter, essays for the Han Lin Journal, or you may even consider being a Columnist.
Happy 5th Birthday, China History Forum!
HappyHistorian
Editor
CHF Newsletter
CHF Han Lin Journal