I've been watching History Channel where they presented a chinese multi-stage rocket (developed during Ming dynasty). Interestingly, they mentioned this was a form of "ancient cruise or inter-continental" missile.
Anyway, this multi-stage rocket was known as
"Huo Long Chu Shui 火龙出水
" (
Fire Dragon Out of the Water
). Below show some pictures of it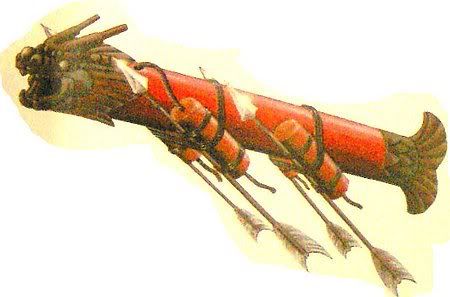 (Source : Huolongjing 《火龙经》清刻本, [火龙出水」外观图)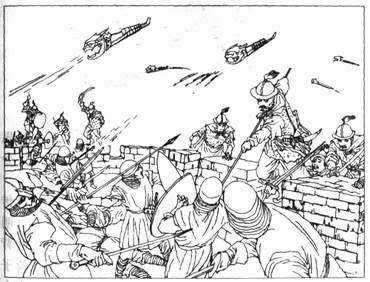 The ancient Chinese multi-stage rockets were used both in land as well as naval warfare. The "
Fire Dragon Out of Water
" was
a two-stage rocket
and was mentioned in the chinese source Wubeizhi 《武备志》(1621)
It comprised of about a 1.65m long tube equipped with many rockets inside. The front was designed to look like a dragon head while the back was designed to look like the tail of the dragon. The two ends of the rear body of the fire dragon were equipped with two rockets. These rockets were linked by strings to the ignition on the inside. Then one uses a final string to ignite the 4 rockets at the lower portion of the fire dragon. The lower portion of the dragon body is the 1st stage rocket, while the inner body of the dragons were the 2nd stage rockets.
When "Fire Dragon out of water" were placed onto a warship and used for attacking enemy ships, one can ignite the 4 first-stage rockets at the lower portion of the dragon body. This act as forms of booster propeling the dragon body forward for a certain distance. After the combustion of the 1st stage rocket is depleted, it will automatically ignite the 2nd stage rockets on the inside body of the dragon.These 2nd stage rockets will be fired out of the dragon's mouth towards the enemy ship, creating explosion on the enemy ship. Each rocket has about 750 g of gunpowder. The weapon is about 5-10 kg and can traverse a cruise distance of 1.308-1.962 km
Below shows some pictures of the structure of firing: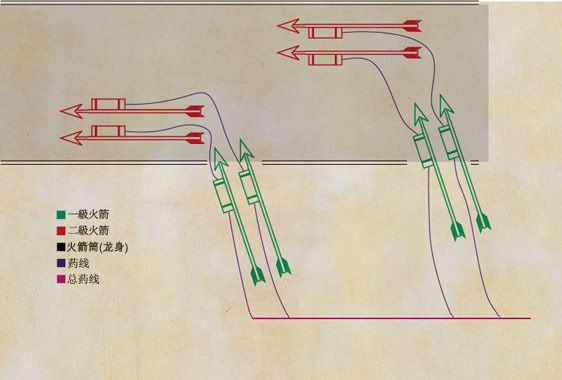 This two stage rocket was the ancestors of today's multi-stage inter-continental missiles/rockets. Joseph Needham once mentioned that the "Fire Dragon out of water" was the ancestor of Apollo who landed on the moon during the 20th century.
If you have any further info, please do contribute.
For more info, refer to source
http://cn.chiculture...ml/0818c09.html